The Zombie Pumpkin

A Zombie Pumpkin
Added
Unknown
Stackable
Yes (64)
Tool
Any
Renewable
Yes
Data Value
570
Zombie Pumpkins are a decorative block crafted with one normal Pumpkin and 8 Rotten Flesh. The pumpkins added by Divine RPG have no purpose and so are purely for a fun little side-quest and for aesthetic purposes.
Recipe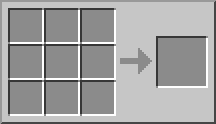 Ad blocker interference detected!
Wikia is a free-to-use site that makes money from advertising. We have a modified experience for viewers using ad blockers

Wikia is not accessible if you've made further modifications. Remove the custom ad blocker rule(s) and the page will load as expected.