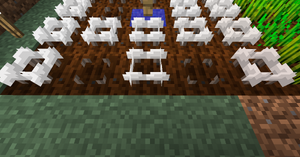 White Mushroom seeds can be planted on tilled, moist soil. Once planted they will slowly grow into White Mushrooms which can be harvested. Each fully developed plant will only drop one White Mushroom, but each mushroom can be crafted into four White Mushroom Seeds.
Recipe
Ad blocker interference detected!
Wikia is a free-to-use site that makes money from advertising. We have a modified experience for viewers using ad blockers

Wikia is not accessible if you've made further modifications. Remove the custom ad blocker rule(s) and the page will load as expected.