Twilight Clock
Type
Utility
Renewable
Yes
Stackable
No
The Twilight Clock is a utility item that lights the portals to the Twilight Dimensions.
Obtaining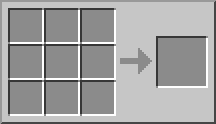 Usage
The Twilight Clock lights the Twilight Dimension portals. Right-clicking inside the portals will light them, just like Flint and Steel lights Nether portals.
The Twilight Clock has an infinite durability, which makes up for its expensive crafting recipe. It should be stored safely in a Chest when not in use.
The Twilight Clock will not light portals to Arcana or Iceika.
Trivia
The Twilight Clock used to be able to light Iceika portals, but now Iceika portals are lit by the Snow Globe.
Ad blocker interference detected!
Wikia is a free-to-use site that makes money from advertising. We have a modified experience for viewers using ad blockers

Wikia is not accessible if you've made further modifications. Remove the custom ad blocker rule(s) and the page will load as expected.