Teleportation Crystal
Type
Utility
Renewable
Yes
Stackable
No
The Teleportation Crystal is a handy utility item that teleports the user back to the Overworld spawn point. It can be used anywhere, even in different dimensions.
Obtaining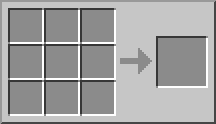 Usage
A Teleportation Crystal is a handy item to have while exploring in case the player gets lost or does not want to have to walk a long distance to get back home.
The Teleportation Crystal is also a very handy item for use in combat. If the player is falling into the Void in dimensions where it's exposed (like Skythern), the player can use the Teleportation Crystal to return safely back to the Overworld spawn without losing any items.
As a downside, the Teleportation Crystal only has 10 uses. However, it is relatively easy to craft.
Ad blocker interference detected!
Wikia is a free-to-use site that makes money from advertising. We have a modified experience for viewers using ad blockers

Wikia is not accessible if you've made further modifications. Remove the custom ad blocker rule(s) and the page will load as expected.