Note: Due to excessive comments about the Jerry Sword from Jerry's mod, I would like to confirm that the Jerry sword is NOT a part of the DivineRPG Mod. Any Jerry's Mod comments shall be deleted
Slime Sword

The Slime Sword
Added
0.4 Version
Type
Weapon
Damage
11 Points (x5.5)
Durability
1,000
Data Value
5325
The Slime Sword is one of a few Divine RPG swords that can be crafted entirely from Vanilla Minecraft items. The Slime Sword is enchantable, and is also repairable by using Diamonds and an Anvil (each diamond will repair the sword by 250 uses). It is the first Divine RPG sword that one can craft in most situations. It deals 11 Points (

x5.5) of damage and has 1000 uses. It is recommended to make a Frost Sword instead because it's easier to make, it slows down the enemy for 2 seconds and it deals 10 Points (

x5) of damage.
Recipe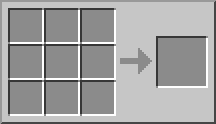 Trivia
This sword is much better than its rival, the Inferno Sword, which is also a sword crafted entirely from Vanilla items. It also costs more to make the Inferno Sword.
Ad blocker interference detected!
Wikia is a free-to-use site that makes money from advertising. We have a modified experience for viewers using ad blockers

Wikia is not accessible if you've made further modifications. Remove the custom ad blocker rule(s) and the page will load as expected.