Serenade of Health
Durability
20
Tool
Tool
Stackable
One

The Serenade of Health is made from Netherite Chunks. Upon use, it heals a player by all hearts which is very similar to the Healing Stone. The Serenade only has 20 uses, making this a limited but powerful tool.
It is recommended that you craft a Serenade of Health as soon as possible and bring it with you into any major mob or boss fight. Fortunately, you can craft it before you have to fight any bosses. To make it last longer, you might want to enchant it with an Unbreaking III Enchanted Book on an Anvil.
Recipe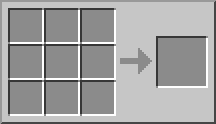 Ad blocker interference detected!
Wikia is a free-to-use site that makes money from advertising. We have a modified experience for viewers using ad blockers

Wikia is not accessible if you've made further modifications. Remove the custom ad blocker rule(s) and the page will load as expected.