The Serenade Striker is a unique magical weapon that can be obtained early in the game for relatively few resources. When used, it causes lightning to strike at the location that the user is pointing at. Though lightning strikes have somewhat low damage, the affected mob is set on fire which deals a decent amount of damage over time.
The main bonus of this weapon is that it provides accurate, long range rapid attacks for the price of only 5 diamonds. Plus, the lightning effect ignores armor and ignites its target. It is definitely a smart investment as soon as it is available to craft. However, it wears out quickly, so you may wish to make several of them or conserve it and use it rarely.
The lightning deals 12 points (6 heart) of damage. The serenade itself only has 100 uses. Unbreaking III on it is really useful.
Recipe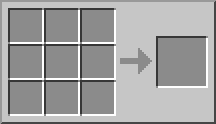 Ad blocker interference detected!
Wikia is a free-to-use site that makes money from advertising. We have a modified experience for viewers using ad blockers

Wikia is not accessible if you've made further modifications. Remove the custom ad blocker rule(s) and the page will load as expected.