Redstone Ore is a Vanilla Minecraft ore found in the Overworld that can only be mined using an Iron or greater pickaxe with the Silk Touch enchantement. Redstone Ore, being a Vanilla Minecraft object, has more information on the Vanilla Minecraft wiki here.
Recipe
Redstone Ore can currently only be made into one DivineRPG item, the Inferno Sword.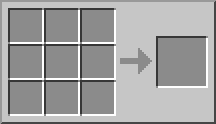 Ad blocker interference detected!
Wikia is a free-to-use site that makes money from advertising. We have a modified experience for viewers using ad blockers

Wikia is not accessible if you've made further modifications. Remove the custom ad blocker rule(s) and the page will load as expected.