The Poison Saber is a relatively durable sword capable of inflicting moderate damage. Though its base damage won't carry its usefulness beyond the early game, its poison effect can be devastating to a powerful enemy, and may be worth keeping around as a means of keeping a poisonous debuff continuously inflicted upon a tough enemy, thereby making a fight easier. However, this weapon will do little extra harm to undead and arthropodic enemies, as well as any other poison-immune enemies. It deals 16 point (8 hearts) of damage, inflicts a poison debuff that lasts 15 seconds on most mobs and has 10000 uses.
Recipe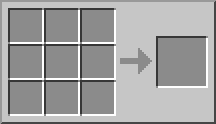 Trivia
Prior to the 1.2.8 update, the Poison Saber only dealt 1 point (0.5 hearts) of damage.
Ad blocker interference detected!
Wikia is a free-to-use site that makes money from advertising. We have a modified experience for viewers using ad blockers

Wikia is not accessible if you've made further modifications. Remove the custom ad blocker rule(s) and the page will load as expected.