Pickaxes are used to mine stone and ore based blocks. Divine RPG adds a lot of new tool tiers and the new pickaxes are listed here.
Crafting
Pickaxes are crafted using two Sticks for the handle and three tier material across the top making a T-shape pattern.
Example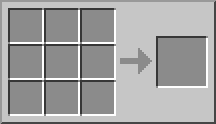 Types
Efficiency
Different tiers of Pickaxes operate at different speeds. Below is a table detailing the respective speeds at which some blocks are mined. These figures are calculated by accurate formulae, and are rounded to 2.s.f. Some Vanilla Tools and Blocks are added for easy reference.
Blocks with * mean that they are from Vanilla Minecraft.
| Blocks | Fists | | | | | | | | | | | | | |
| --- | --- | --- | --- | --- | --- | --- | --- | --- | --- | --- | --- | --- | --- | --- |
| Netherrack* | 2 s | 0.075 s | 0.067 s | 0.05 s | 0.046 s | 0.038 s | 0.038 s | 0.03 s | 0.03 s | 0.021 s | 0.017 s | 0.013 s | 0.011 s | 0.004 s |
| Stone* | 7.49 s | 0.28 s | 0.25 s | 0.19 s | 0.17 s | 0.14 s | 0.14 s | 0.11 s | 0.11 s | 0.08 s | 0.063 s | 0.047 s | 0.041 s | 0.015 s |
| Obsidian* | 250 s | 9.38 s | 8.33 s | 6.25 s | 5,77 s | 4.69 s | 4.69 s | 3.75 s | 3.75 s | 2.68 s | 2.08 s | 1.56 s | 1.36 s | 0.5 s |
| | | | | | | | | | | | | | | |
| Twilight Ores | 100 s | 100 s | 100 s | 100 s | 100 s | 1.88 s | 1.88 s | 1.5 s | 1.5 s | 1.07 s | 0.83 s | 0.63 s | 0.55 s | 0.2 s |
| Twilight Stone | 50 s | 1.88 s | 1.67 s | 1.25 s | 1.15 s | 0.94 s | 0.94 s | 0.75 s | 0.75 s | 0.54 s | 0.42 s | 0.31 s | 0.27 s | 0.1 s |