The Palavence is a unique sword constructed of Realmite that can be obtained early in the game. Though it only inflicts very little damage, the Palavence will heal the user by half a heart every time it is used. However, the sword is very fragile and cannot be used for long before breaking. The Palavence deals 1 point (0.5 hearts) of damage, heals the user half a heart and has 120 uses. To use this sword to heal right-click while wielding it.
Recipe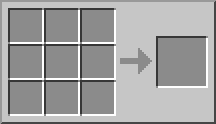 Ad blocker interference detected!
Wikia is a free-to-use site that makes money from advertising. We have a modified experience for viewers using ad blockers

Wikia is not accessible if you've made further modifications. Remove the custom ad blocker rule(s) and the page will load as expected.