The Nightmare Bed is the bed used to get into Vethea.
Usage
When you make the Nightmare Bed, you can place it down on most normal blocks. The Nightmare Bed as of now can only be used at night (like a normal bed). If it is nighttime and you right-click the bed, a warning message will display:
"WARNING! Are you sure you want to enter Vethea; every Minecraft player's worst nightmare? There may be no coming back..."
Right-clicking the bed again will send you to Vethea.
Upon entering Vethea, the old-style portal (8 Mortum Blocks in a diamond shape) will spawn at your location, so Nightmare Beds are only used to get to Vethea, not to exit from it.
Crafting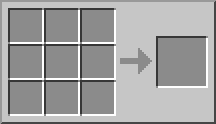 Ad blocker interference detected!
Wikia is a free-to-use site that makes money from advertising. We have a modified experience for viewers using ad blockers

Wikia is not accessible if you've made further modifications. Remove the custom ad blocker rule(s) and the page will load as expected.