The Mythril Pickaxe is the pickaxe made from Mythril Chunks while journeying through the Mythril Mountains. Like most of the pickaxes that can be made from mob drops in the Twilight Dimensions, it is very tedious to get three Mythril Chunks (63 Mythril Fragments) as the mobs can be difficult when you first get to a new dimension.
Efficiency: 48.0
Durability: 6000 Uses
Recipe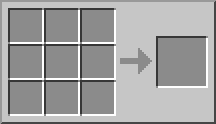 Ad blocker interference detected!
Wikia is a free-to-use site that makes money from advertising. We have a modified experience for viewers using ad blockers

Wikia is not accessible if you've made further modifications. Remove the custom ad blocker rule(s) and the page will load as expected.