Golden Fury
Type
Weapons
Weapon Type
Ranged
Damage Output
30 (x15)
Durability
Infinite
Renewable
No
Stackable
No
Ammunition
Gold Nugget
The Golden Fury is a powerful, but extremely expensive ranged weapon. It is obtained by crafting seven Fury Fires and two Blocks of Gold together, which means the player must beat the King of Scorchers seven times to obtain it.
Obtaining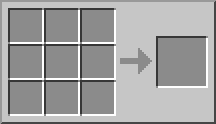 Usage
The Golden Fury is not a recommended weapon to try and get, because the player must beat the King of Scorchers seven times to get enough Fury Fires. The King of Scorchers himself is a difficult boss, and spawning him is also difficult because of the materials the spawner (the Infernal Flame) requires. What's more, the Golden Fury uses Gold Nuggets as ammunition, which can be quite expensive to constantly refill. However, if you have an excess of Fury Fires, the Golden Fury is a good choice to craft, as the only other use of Fury Fires is for the Flaming Fury, which is even less worthwhile.
If the player does manage to get the Golden Fury, its high rate of fire and damage makes it a relatively good weapon for fighting tough, fast mobs. It can kill most vanilla mobs in one hit easily and can damage most other mobs heavily. However, weapons such as the Augite Phaser are much cheaper, require no ammunition, and do about the same amount of damage, so it is recommended that you get them instead.
Trivia
The Golden Fury is non-renewable, though it comes very close to being renewable.
This is because it needs to be crafted using Fury Fires. Fury Fires are dropped by the King of Scorchers, who is in turn spawned by the Infernal Flame. The Infernal Flame requires Purple Blaze, which is renewable, but it also requires an Inferno Sword, which in turn requires two intact Redstone Ore blocks - and Redstone Ore is NOT renewable. Because of this, the Infernal Flame, the Fury Fire, and ultimately the Golden Fury are non-renewable.
Ad blocker interference detected!
Wikia is a free-to-use site that makes money from advertising. We have a modified experience for viewers using ad blockers

Wikia is not accessible if you've made further modifications. Remove the custom ad blocker rule(s) and the page will load as expected.