The Fury Maul is one of a few Divine RPG weapons that can be crafted using vanilla Minecraft items. It is more powerful than its predecessor, the Crabclaw Maul, and has the added bonus of having infinite durability. It requires raw Diamond Ore to craft, which requires a Silk Touch Pickaxe. It deals 14 points (7 hearts) of damage, confuses the opponent and has infinite uses. Strangely, the cheaper Bedrock Maul deals more damage, however the Bedrock Maul does NOT confuse the opponent.
There seems to be a bug (in 1.0.1) where some enchantments do not work with others on the one weapon.
Recipe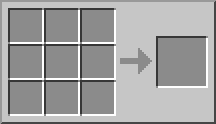 Ad blocker interference detected!
Wikia is a free-to-use site that makes money from advertising. We have a modified experience for viewers using ad blockers

Wikia is not accessible if you've made further modifications. Remove the custom ad blocker rule(s) and the page will load as expected.