The Frost Cannon deals 8 ranged damage, has 15000 durability and shoots Snowballs. The Frost Cannon is resource intensive due to the 4 Shadow Bars needed, but the Ice Stones are easily acquired.
Recipe
The Frost Cannon is created with three Ice Stones and four Shadow Bars, in the form shown below.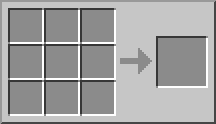 Ad blocker interference detected!
Wikia is a free-to-use site that makes money from advertising. We have a modified experience for viewers using ad blockers

Wikia is not accessible if you've made further modifications. Remove the custom ad blocker rule(s) and the page will load as expected.