NOTE: As of v1.4.0 this item has been replaced by the Nightmare Bed.
Dream Powder is used to ignite the Vethea Portal. To make a Dream Powder you need 8 Augite Fragments and one Glowstone Dust.
Recipe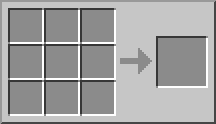 Trivia
This item was the only portal-lighting item that uses the same material as the portal itself.
Ad blocker interference detected!
Wikia is a free-to-use site that makes money from advertising. We have a modified experience for viewers using ad blockers

Wikia is not accessible if you've made further modifications. Remove the custom ad blocker rule(s) and the page will load as expected.