Divine shards are obtained by defeating any of the first three bosses in DivineRPG. The player must kill either The Ancient Entity, The Watcher, or the Ayeraco Horde. It is recommended to fight The Ancient Entity, as he can be spawned in the Overworld, whereas The Watcher can only be spawned in The Nether. Upon death, they will drop 3-6 Divine Shards. The Ayeraco Horde can only be spawned in The End, and they drop 5 Divine Shards total.
Usage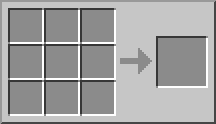 NOTE: The following recipe is shapeless.
Ad blocker interference detected!
Wikia is a free-to-use site that makes money from advertising. We have a modified experience for viewers using ad blockers

Wikia is not accessible if you've made further modifications. Remove the custom ad blocker rule(s) and the page will load as expected.