Death Bringer
Durability
6000
Tool
Weapon
Stackable
One

One of the corrupted weapons, the other being the Corrupted Maul, the Death Bringer is a moderately powerful weapon that is relatively cheap to produce, even though its ingredients can be dangerous to gather. It deals 13 points (6.5 hearts) of damage and has 6000 uses.
Recipe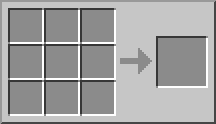 Ad blocker interference detected!
Wikia is a free-to-use site that makes money from advertising. We have a modified experience for viewers using ad blockers

Wikia is not accessible if you've made further modifications. Remove the custom ad blocker rule(s) and the page will load as expected.