Claw Anchor
Added
Version 1.0
Durability
Infinite
Tool
Weapon
Stackable
No

The Claw Anchor is a fairly weak, fairly expensive ranged weapon. It does not consume any ammunition. The Claw Anchor deals 4 points (2 hearts) of damage and has infinite durability. A redeeming feature of the Claw Anchor is the high fire rate. It is the least powerful of all the three anchors, with the others being the Shark Anchor and Bowhead Anchor which are both better and more powerful.
Materials
Recipe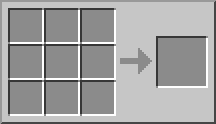 Ad blocker interference detected!
Wikia is a free-to-use site that makes money from advertising. We have a modified experience for viewers using ad blockers

Wikia is not accessible if you've made further modifications. Remove the custom ad blocker rule(s) and the page will load as expected.