Bowhead Anchor
Durability
Infinite
Tool
Weapon
Stackable
One

The Bowhead Anchor is a fairly weak, fairly expensive, infinite ammunition ranged weapon. It has a very high rate of fire. It is crafted by placing five Whale Fins above two Aquatic Ingots. The Bowhead Anchor deals 6 points (3 hearts) of ranged damage, 8 points (4 hearts) of melee damage, and has infinite uses.
Recipe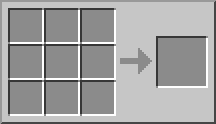 Pros
Very long range.
Very high fire rate.
Infinite ammo and durability.
Not hard to get early on.
Cons
Low damage.
Projectiles not visible by other SMP players.
Ad blocker interference detected!
Wikia is a free-to-use site that makes money from advertising. We have a modified experience for viewers using ad blockers

Wikia is not accessible if you've made further modifications. Remove the custom ad blocker rule(s) and the page will load as expected.