Bone Chest
Type
Chest
Bone Chest has the same capacity as a Normal Chest made out of Wooden Planks (27 slots). Unlike the Normal Chest however, it doesn't convert to a Large Chest when two of them are placed next to each other.
Recipe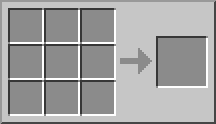 Possible bug
You can still access the Bone Chest after placing a block directly on top of it, which is not possible with a Normal Chest or Dravite Chest.
The Bone Chest does not have an animation when you open or close it.
Trivia
The bone chest has a strange item ID: 666. This was either a coincidence or Xolova wanted to do this because the chest has a necromantic theme, as it is made of bones.