The Bedrock Pickaxe is made with Bedrock, with infinite durability. It is a lot better than the Rupee Pickaxe. The only disadvantage with this pickaxe is that it is very expensive to make. You need three Bedrock, which translates to 27 Rupee Ingots and 21 Obsidian.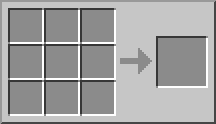 Ad blocker interference detected!
Wikia is a free-to-use site that makes money from advertising. We have a modified experience for viewers using ad blockers

Wikia is not accessible if you've made further modifications. Remove the custom ad blocker rule(s) and the page will load as expected.