Bedrock Maul
Type
Weapon (Maul)
Durability
Infinite
Damage
19 points (9.5 hearts)
Craftable
Yes
Obtainable By
Crafting
The Bedrock Maul is the third most powerful maul available. After the Iceika update, a more powerful counterpart was added: the Frozen Maul.
Due to this weapon having a decently high damage output, and it being indestructible, it is a very formidable weapon, but is highly expensive to create, due to Bedrock having to be crafted with 35 Obsidian and 5 Rupee Blocks (45 Rupee Ingots).
Recipe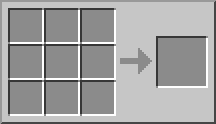 Trivia
Oddly, the Bedrock Maul is cheaper to create than its less powerful cousin, the Fury Maul.
Ad blocker interference detected!
Wikia is a free-to-use site that makes money from advertising. We have a modified experience for viewers using ad blockers

Wikia is not accessible if you've made further modifications. Remove the custom ad blocker rule(s) and the page will load as expected.