Arcanium Reflector
Durability
Infinite
Tool
Weapon
Stackable
One

The Arcanium Reflector is a different kind of weapon because it does not actually deal direct damage. You can trade it with Captain Merik in the Dungeon of Arcana for 7 arcanium. It deals zero damage, and has infinite durability. It uses 20 Arcana to deal a very large knockback to the effected entity. But when it is knocked back it might take some damage depending if it went up high enough above ground.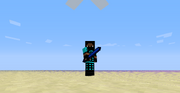 Known Bugs
The Arcanium Reflector does not work in the 1.3.0.4 Update.
Ad blocker interference detected!
Wikia is a free-to-use site that makes money from advertising. We have a modified experience for viewers using ad blockers

Wikia is not accessible if you've made further modifications. Remove the custom ad blocker rule(s) and the page will load as expected.