Aquatic Maul

Aquatic Maul
Type
Maul
Damage Output
18 HP (x9)
Durability
10000
The Aquatic Maul is the most powerful primary melee
weapon
in the
Aquatic Weapon
series and is the second most powerful Maul in the game. It deals 18 points (9 hearts) of damage and has 10000 uses.
To craft the Aquatic Maul, you need 8 Aquatic Ingots (72 Aquatic Pellets), and a stick. Due to the diffuculty of killing King Crabs, this is a weapon not likely to be obtained. However, if near a beach, it is a good weapon to aim for.
Recipe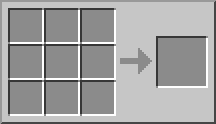 Ad blocker interference detected!
Wikia is a free-to-use site that makes money from advertising. We have a modified experience for viewers using ad blockers

Wikia is not accessible if you've made further modifications. Remove the custom ad blocker rule(s) and the page will load as expected.