The Altar of Corruption is an upgraded version of the Enchantment Table. The main advantage of the Altar is its ability to produce maximum level enchantments without the need for bookshelves, this makes it incredibly useful for outposts due to the reduction of area used. The Altar of Corruption is made by placing three Corrupted Stones above six blocks of Dark Stones, filling the 3x3 crafting grid.
Also, if you try to enchant a book, the Altar of Corruption won't give you an enchanted book, it will enchant the book itself. As example, it will enchant a book with Sharpness III, that does 4-6 points of damage when using the book to attack. Because a book is neither a weapon, tool, bow or armor, it can get every enchantment. They technically have uses, like a book with Knockback, for when you get cornered, or one with the Silk Touch, for digging some grass blocks or collecting leaves and tall grass, but an actual tool with the enchantment would be much more useful for the levels spent on the enchantment.
Recipe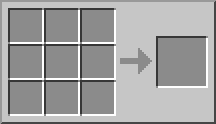 Ad blocker interference detected!
Wikia is a free-to-use site that makes money from advertising. We have a modified experience for viewers using ad blockers

Wikia is not accessible if you've made further modifications. Remove the custom ad blocker rule(s) and the page will load as expected.